So once upon a time my husband and I went on a vacation to Ireland… Day two we woke up in our lovely B&B and we were served a traditional Irish breakfast! This was definitely one of the highlights of our accommodation. Debora was so sweet and asked us what we had in store for the day. I also could not get over the decor of the dining room! So many fascinating antiques. I won't lie, the bar notice made me giggle alot.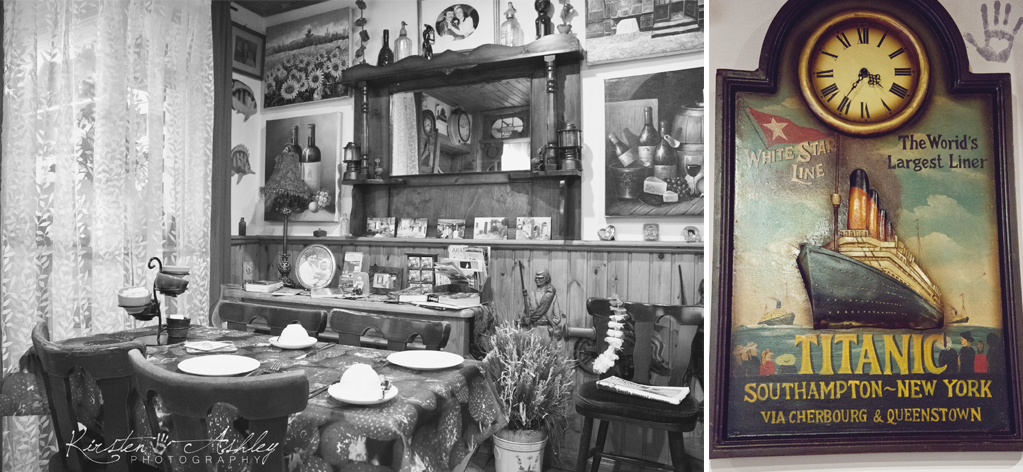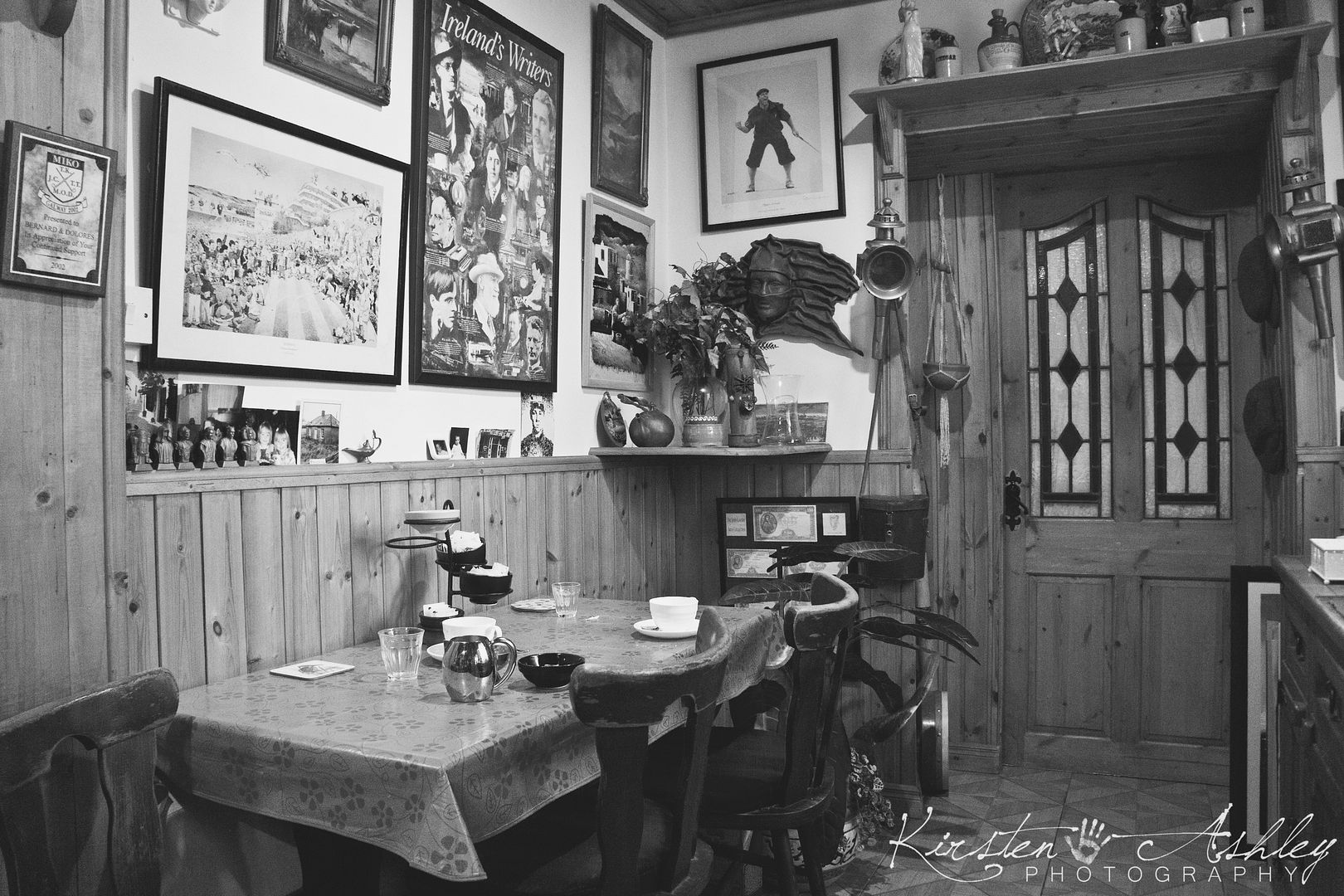 Day two of our adventure was one of the most exciting. We drove about an hour and a half to Ashford Castle. I had done some research before our trip and this castle is a must see! It was built on the site in 1228 by the Anglo-Norman House of Burke. The estate was purchased in 1852 by Sir Benjamin Lee Guinness from the Encumbered Estates' Court. He added two large Victorian style extensions. He also extended the estate to 26,000 acres (110 km2), built new roads and planted thousands of trees. In 1939, Noel Huggard opened the estate as a hotel which became widely renown for it's country pursuits such as angling and shooting. In 1970, John Mulcahy oversaw Ashfords restoration and expansion doubling the castle's current size. The castle currently has 83 bedrooms, six of which are suites. I was in AWE. The grounds are luxurious and the architecture is flawless. Many famous people have come to stay at the castle including King George V of the United Kingdom, Emperor of India, and his consort Queen Mary; John Lennon; George Harrison; Oscar Wilde; President Ronald Reagan; H.R.H. The Prince Edward, Earl of Wessex; John Wayne; Brad Pitt; Pierce Brosnan; H.S.H. The Prince Rainier III of Monaco and his consort, H.S.H. The Princess Grace. Unfortunately, only guests are allowed inside, but anyone can walk around the outside and take pictures for free!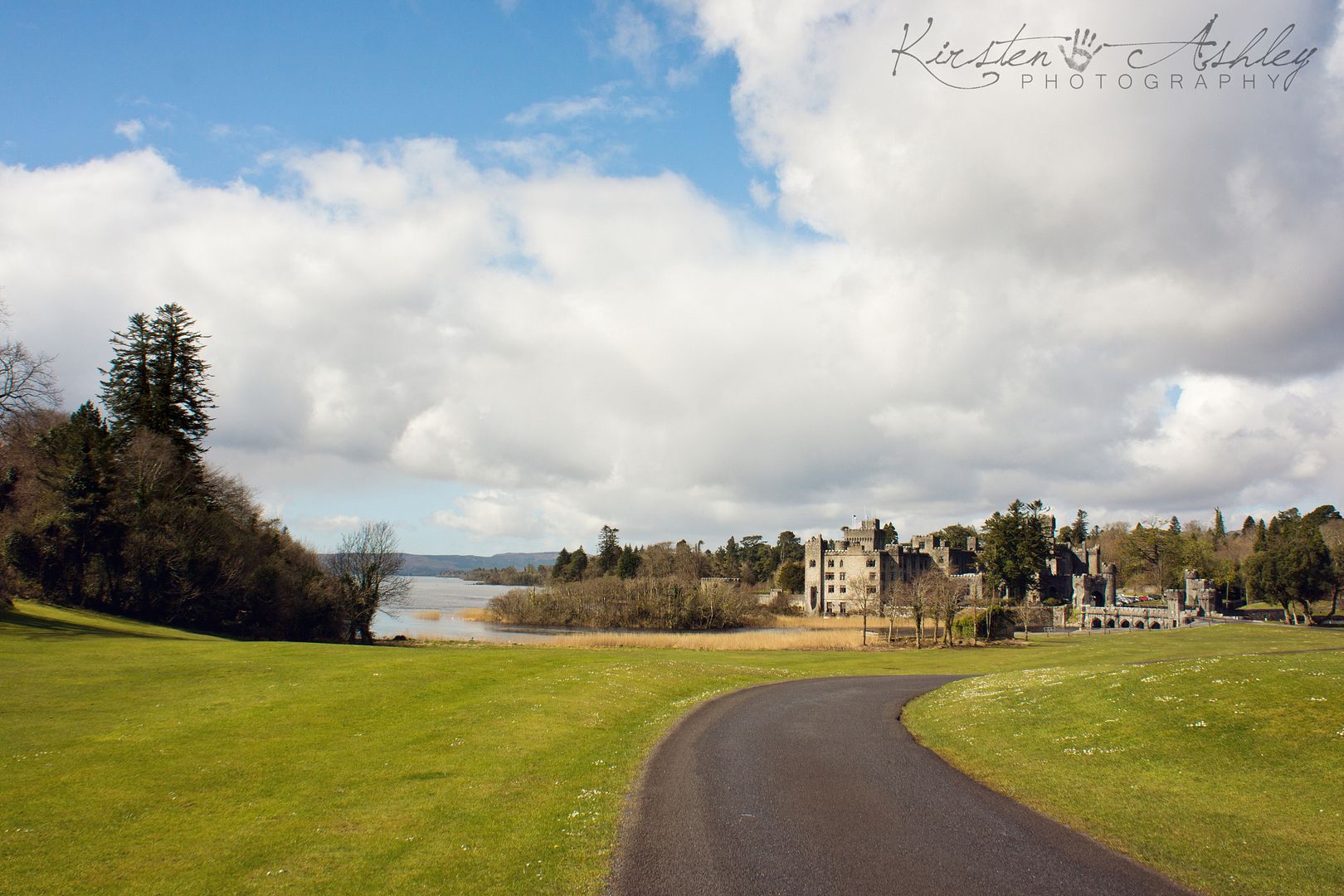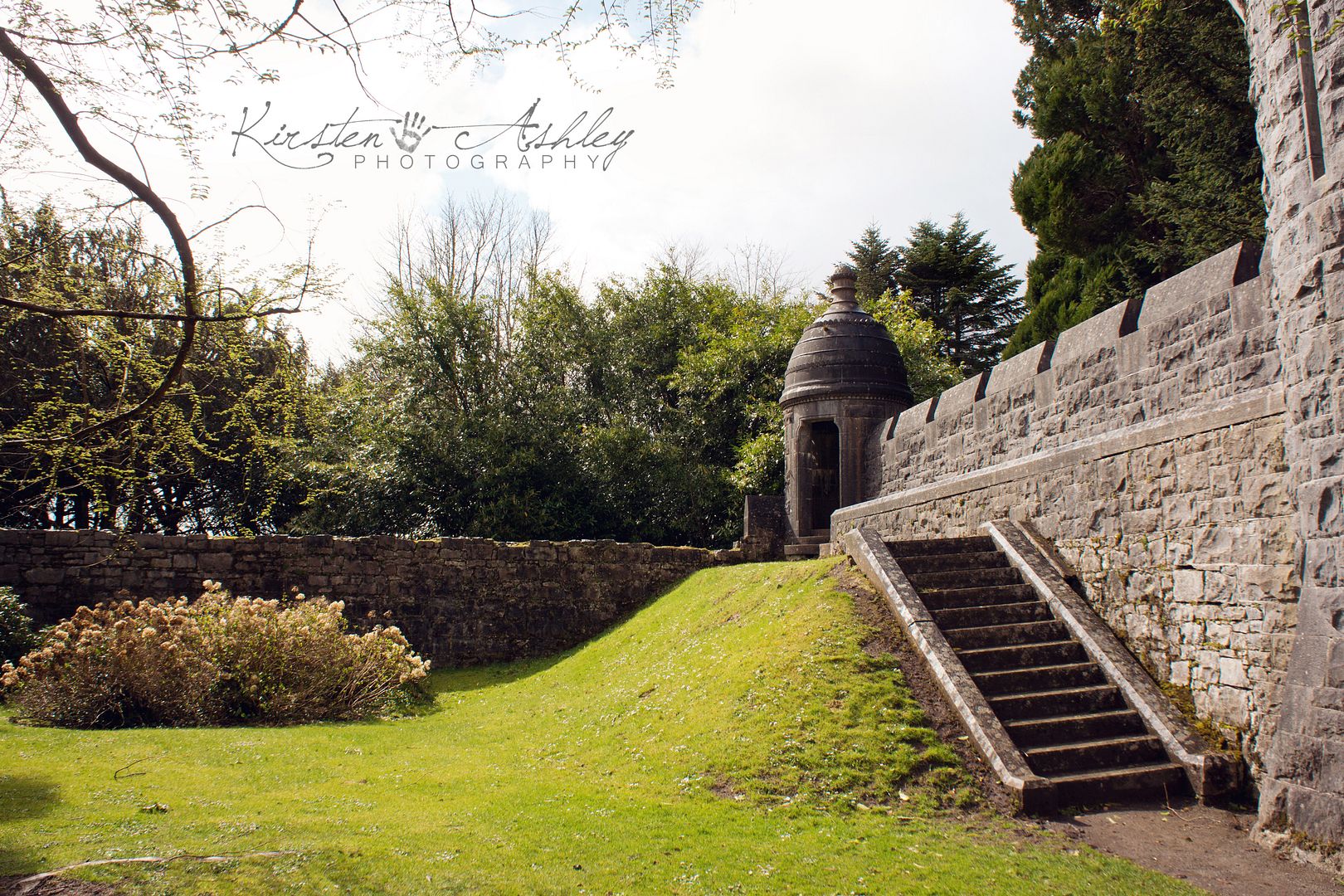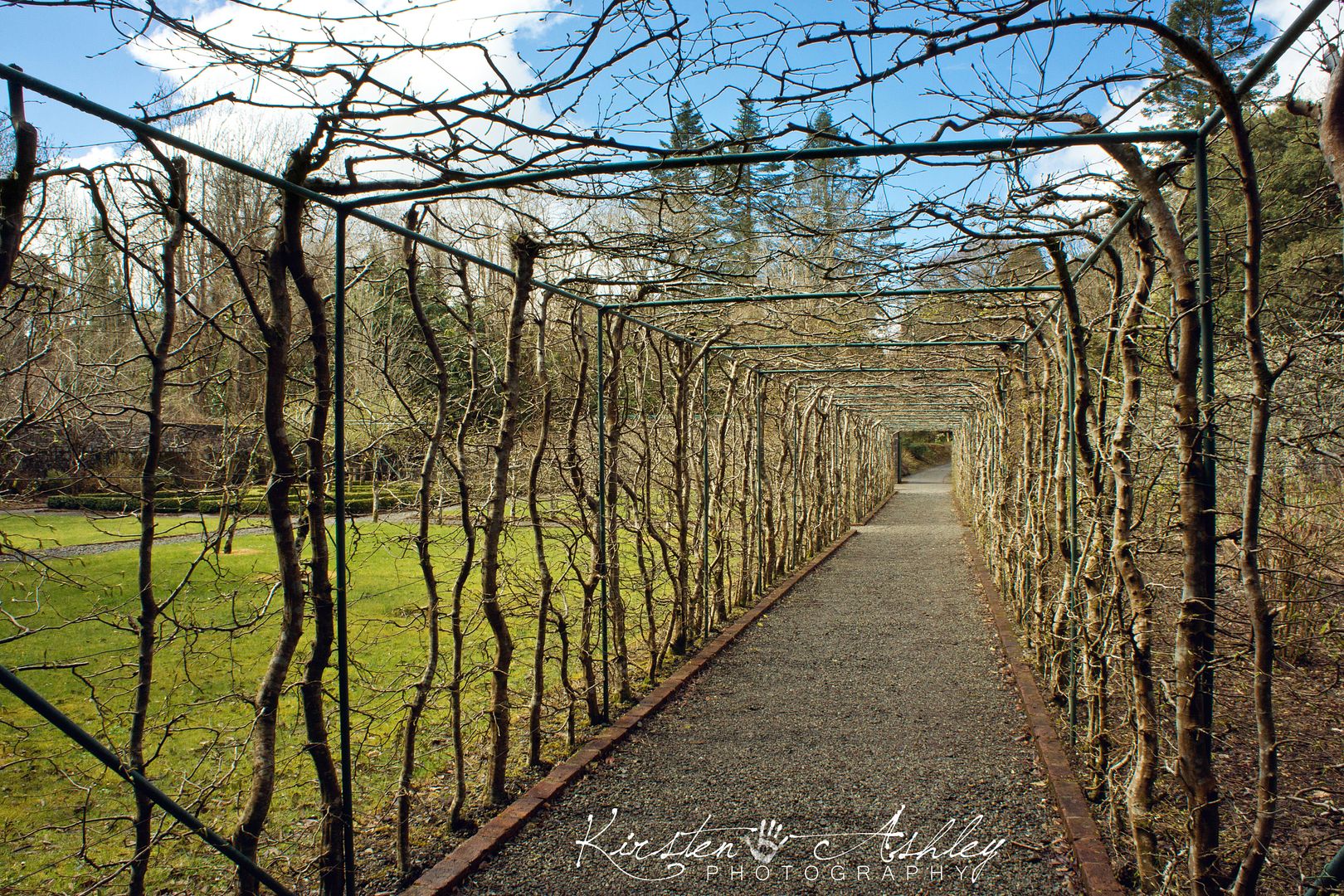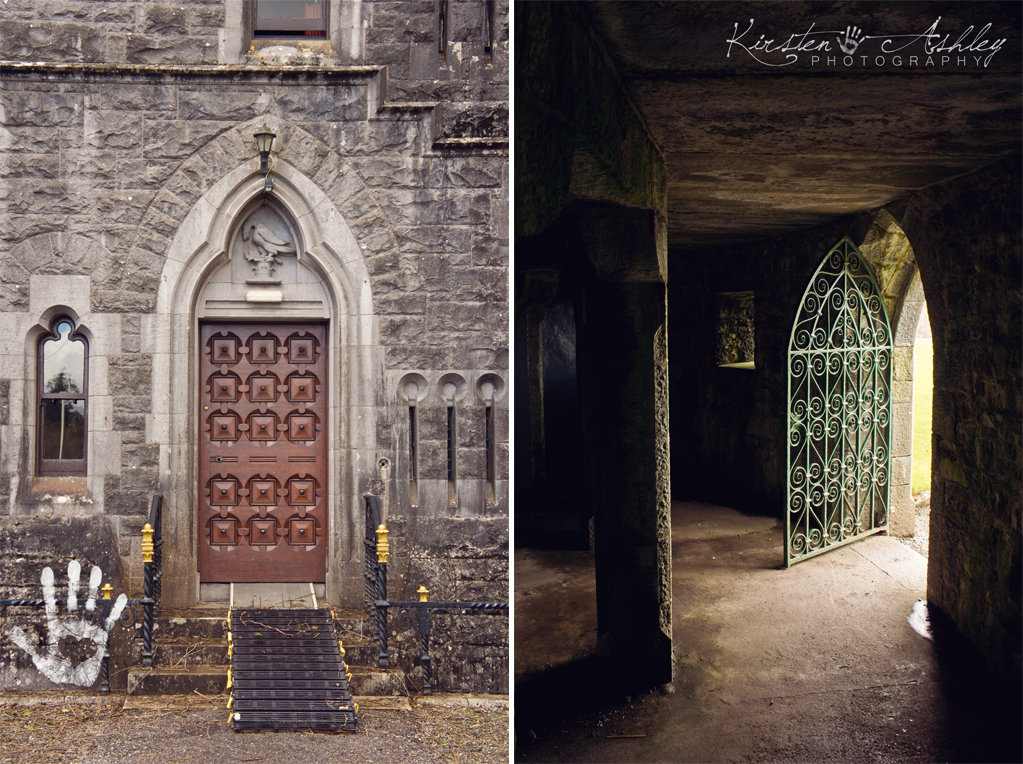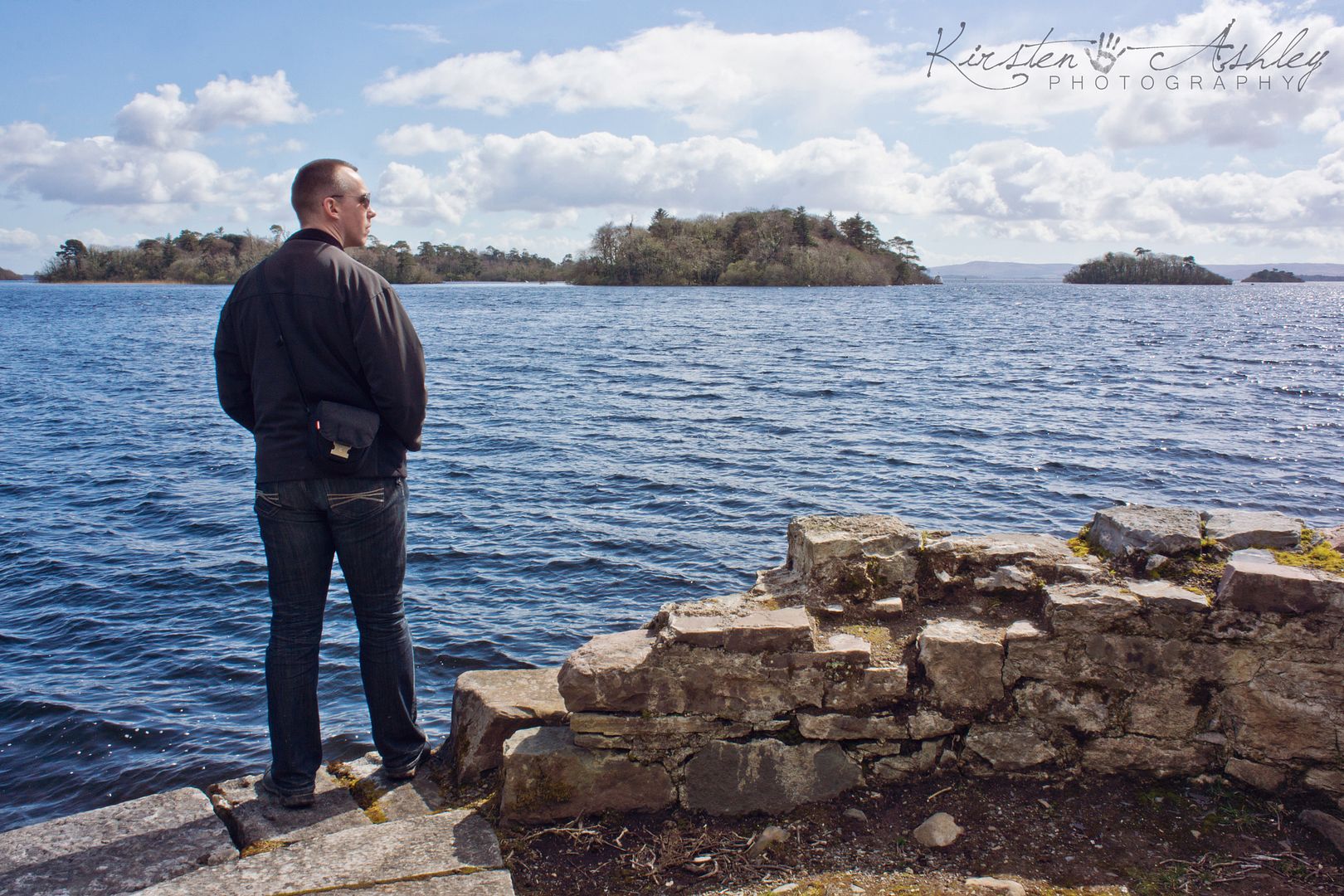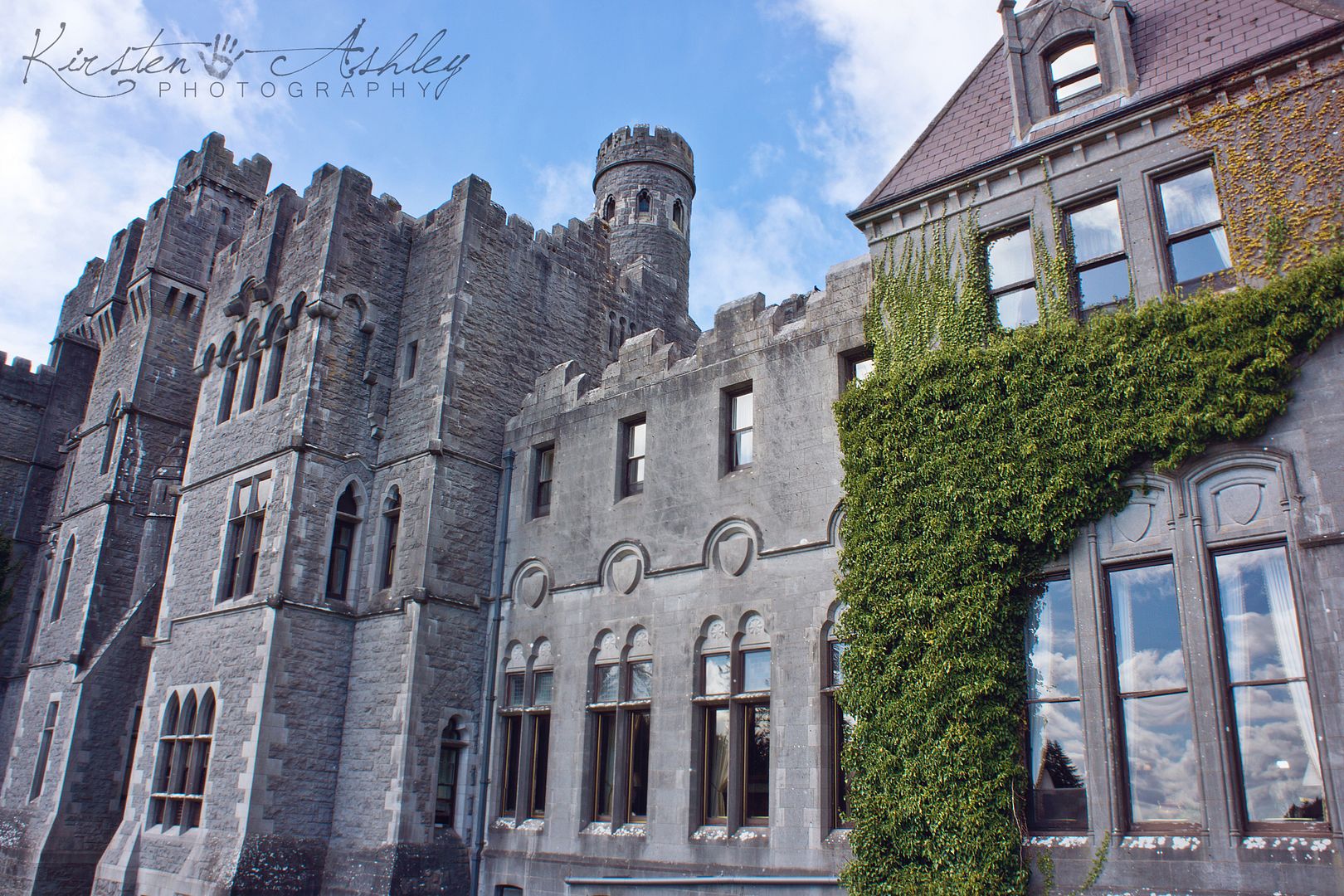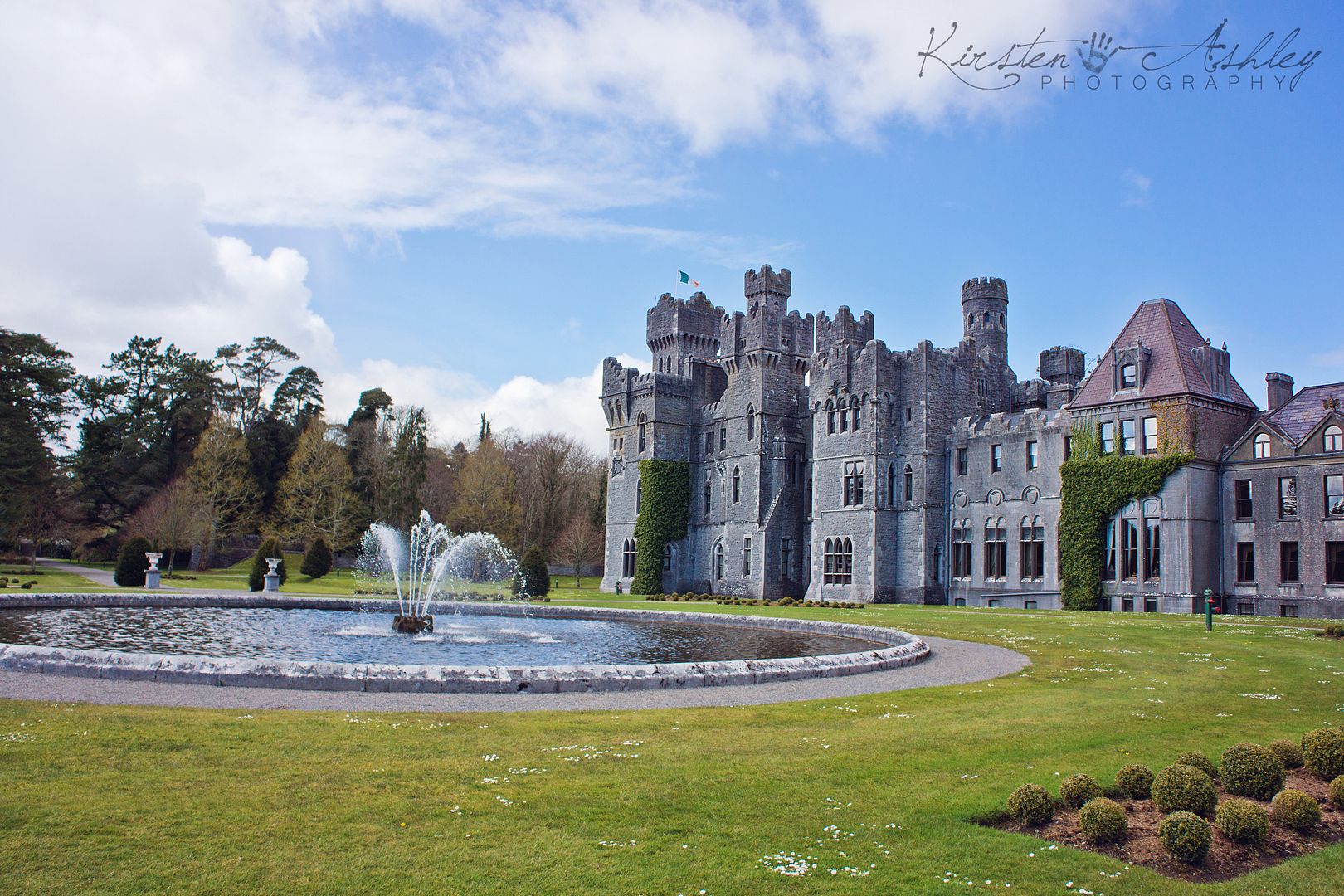 There are other amenities at the castle such as boat rides in hand carved Irish wooden boats, clay pigeon shooting, horseback riding, and to my delight the Ireland School of Falconry!! This was my favorite part of Dana's birthday gift. I reserved a one hour private hawkwalk for us with our own personal guide. "What is a hawk walk?", you ask. It's you, a leather glove, your hawk, and a guide. You carry the bird out of the school on your gloved hand and when you get to a certain point on the trail you release him. The hawk then flies into the trees. When called, the hawk will fly and alight on your outstretched gloved hand, only to receive his raw meat treat. I was surprised to learn that these birds are incredibly social creatures and enjoy working with different people each day. They have zero loyalty which means, interestingly enough, they will only fly to you if you feed them.  Conal, our guide, was extremely informative. He told us all about the hawks and other birds at the school, how they take care of them, and the history of using haws and falcons to hunt. Our hawk's name was Wilde, after Oscar Wilde who had an estate adjacent to Ashford and spent most of his childhood on the castle grounds. Wilde was so perfectly majestic. This experience rates within the top three of my lifetime and I was thrilled to be able to share it with Dana. A HUGE thanks to the Ireland School of Falconry and Conal for such a wondrous opportunity.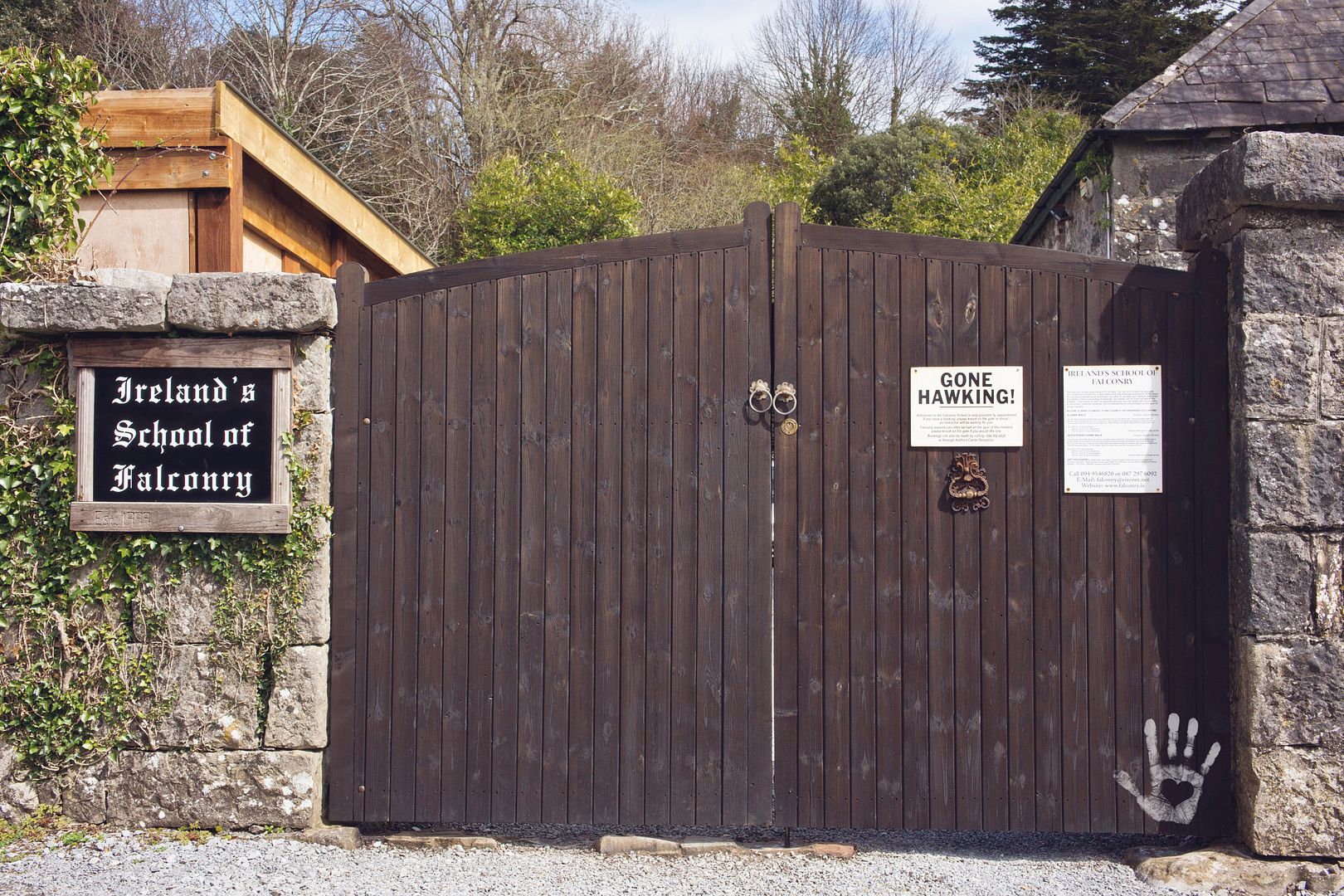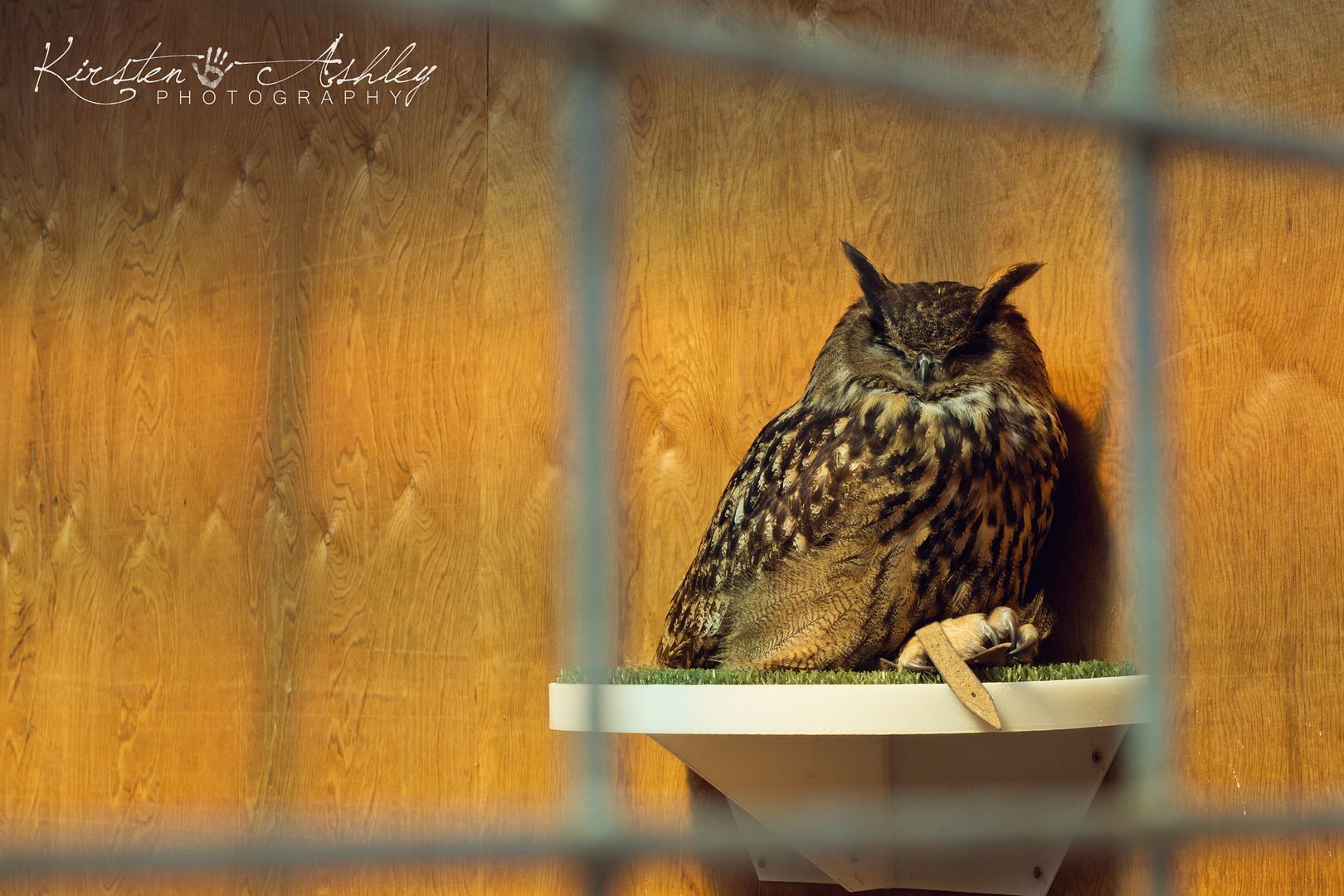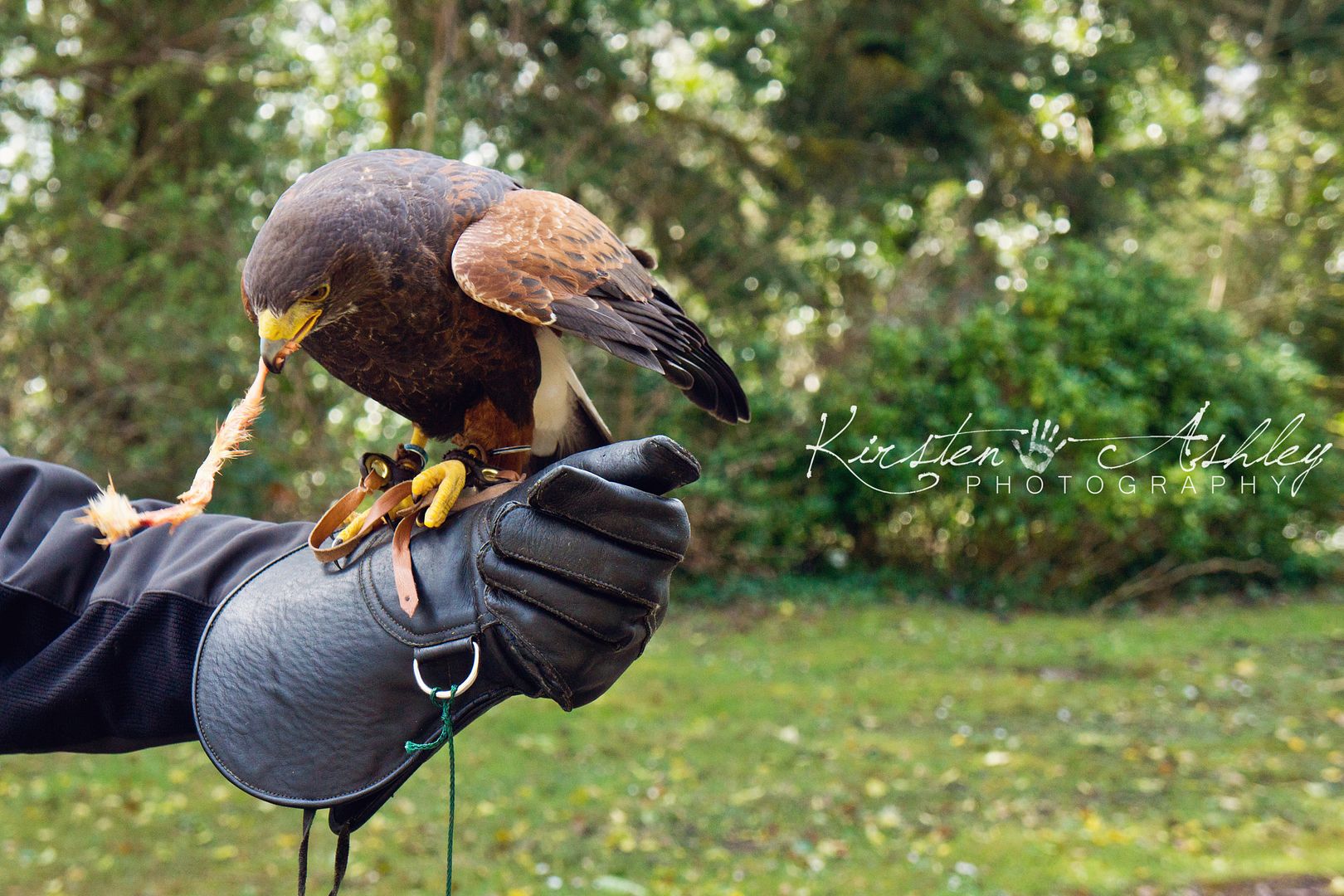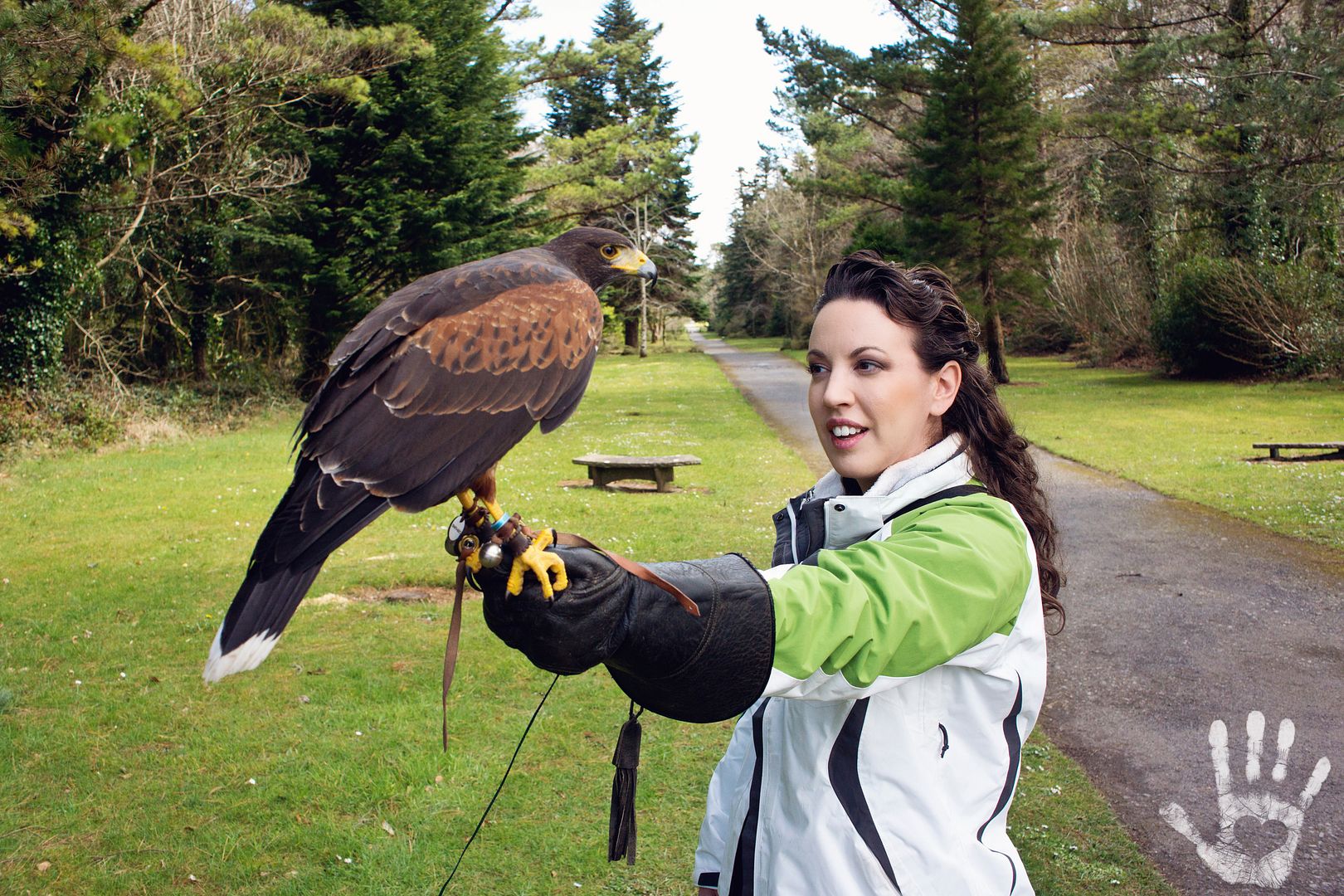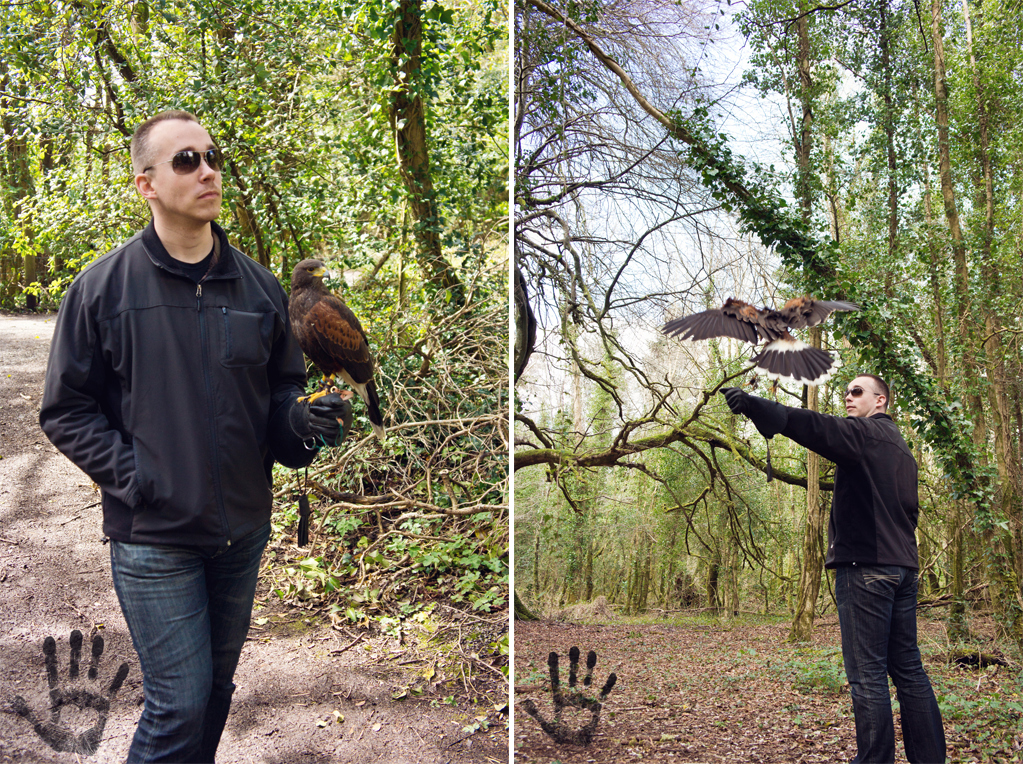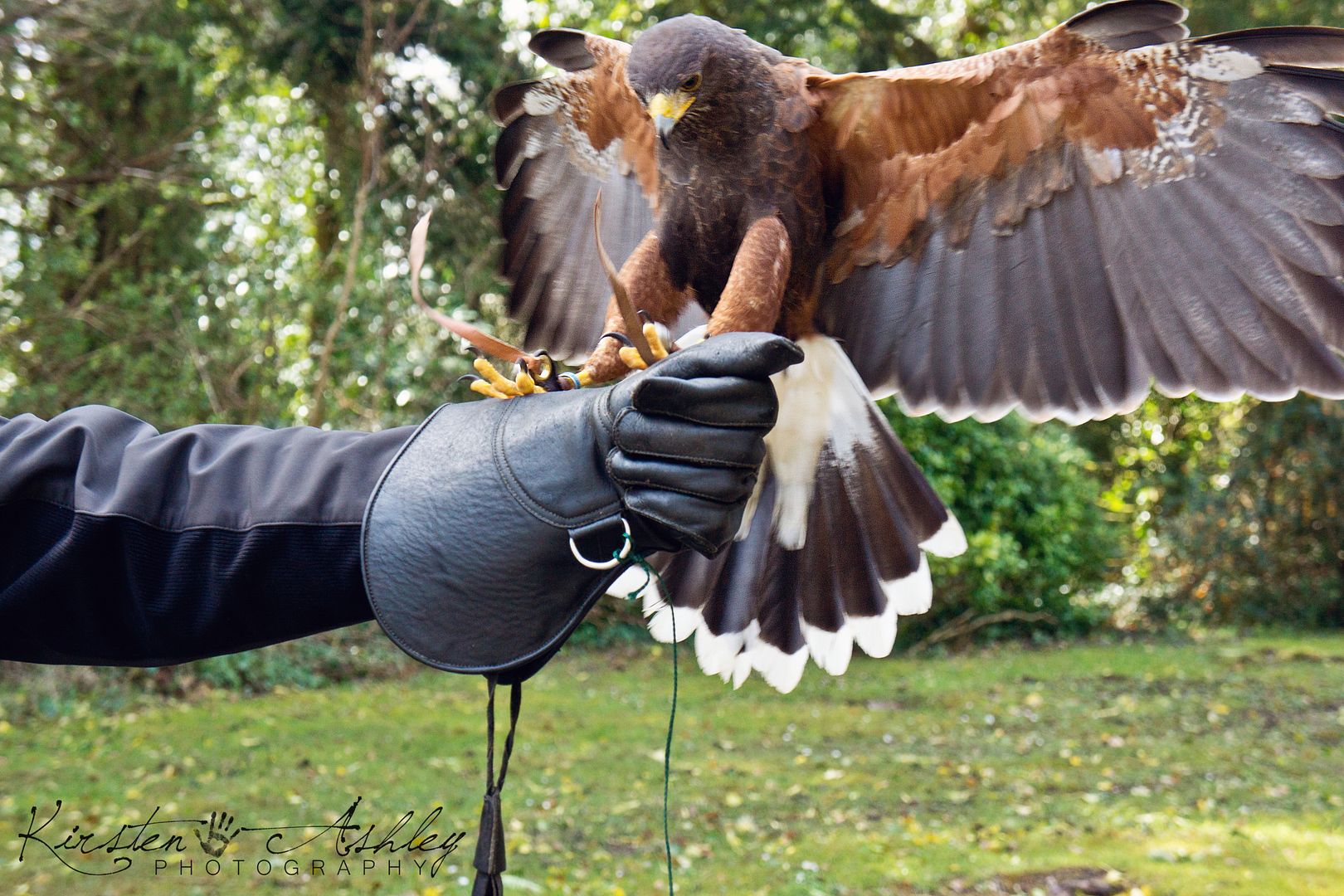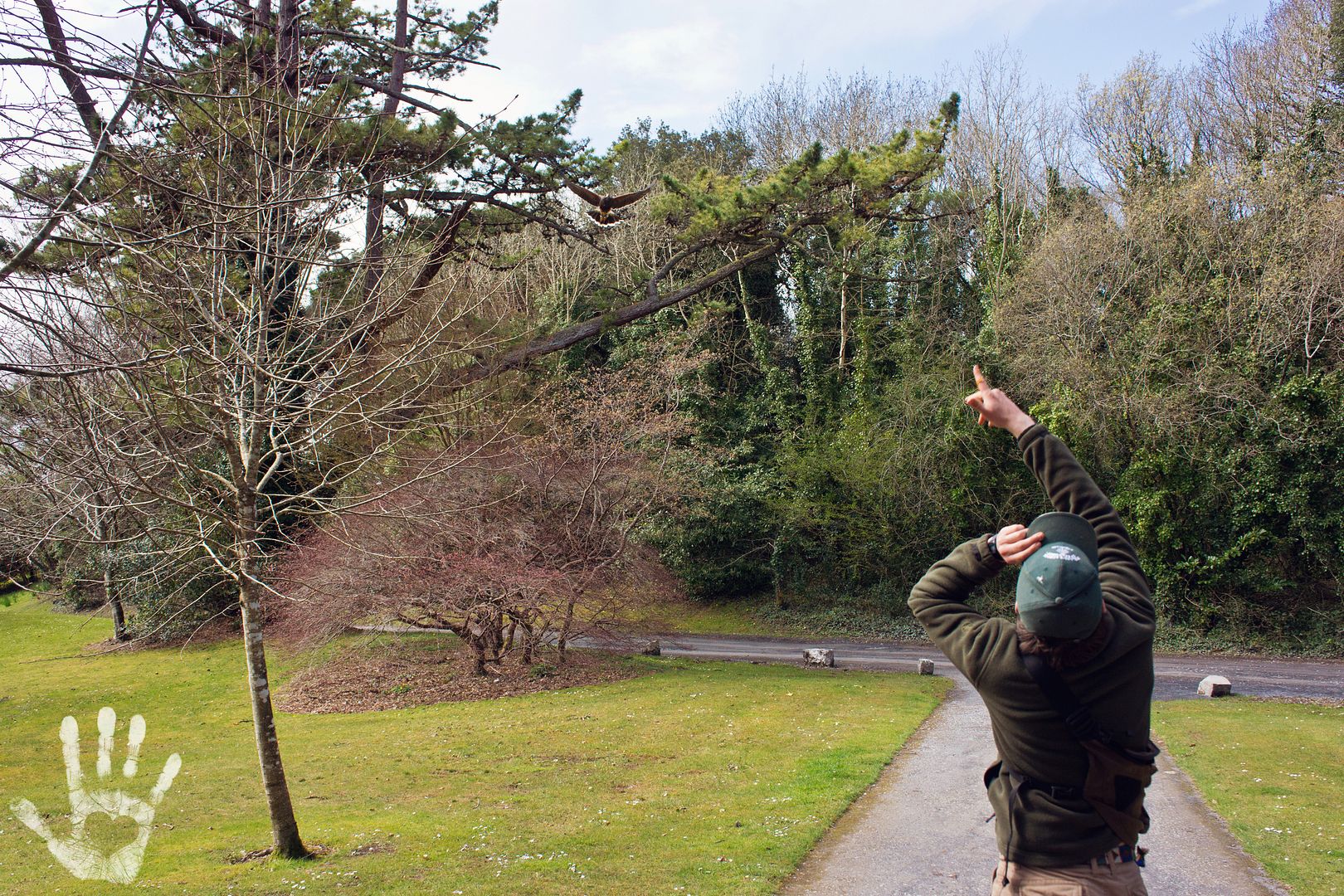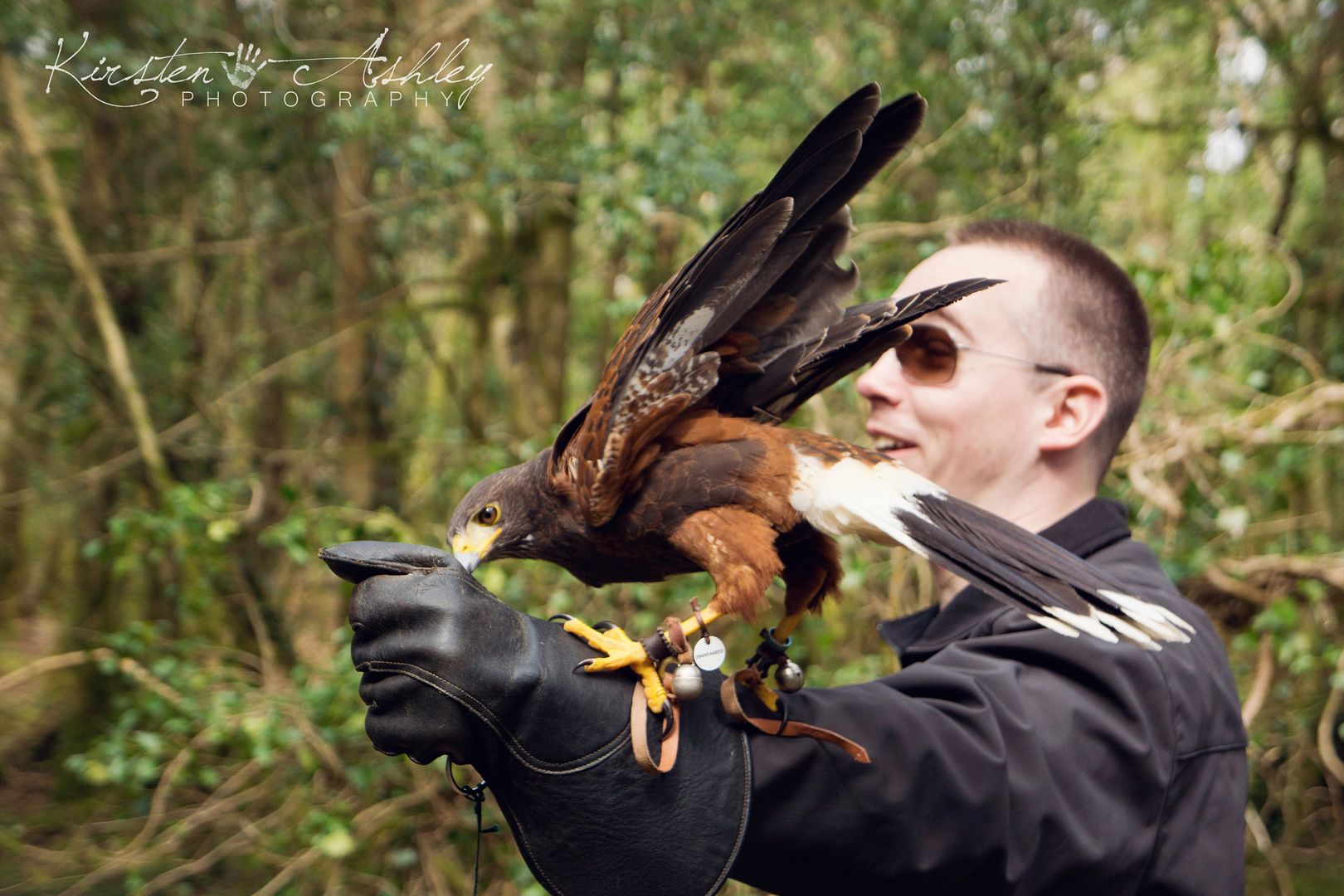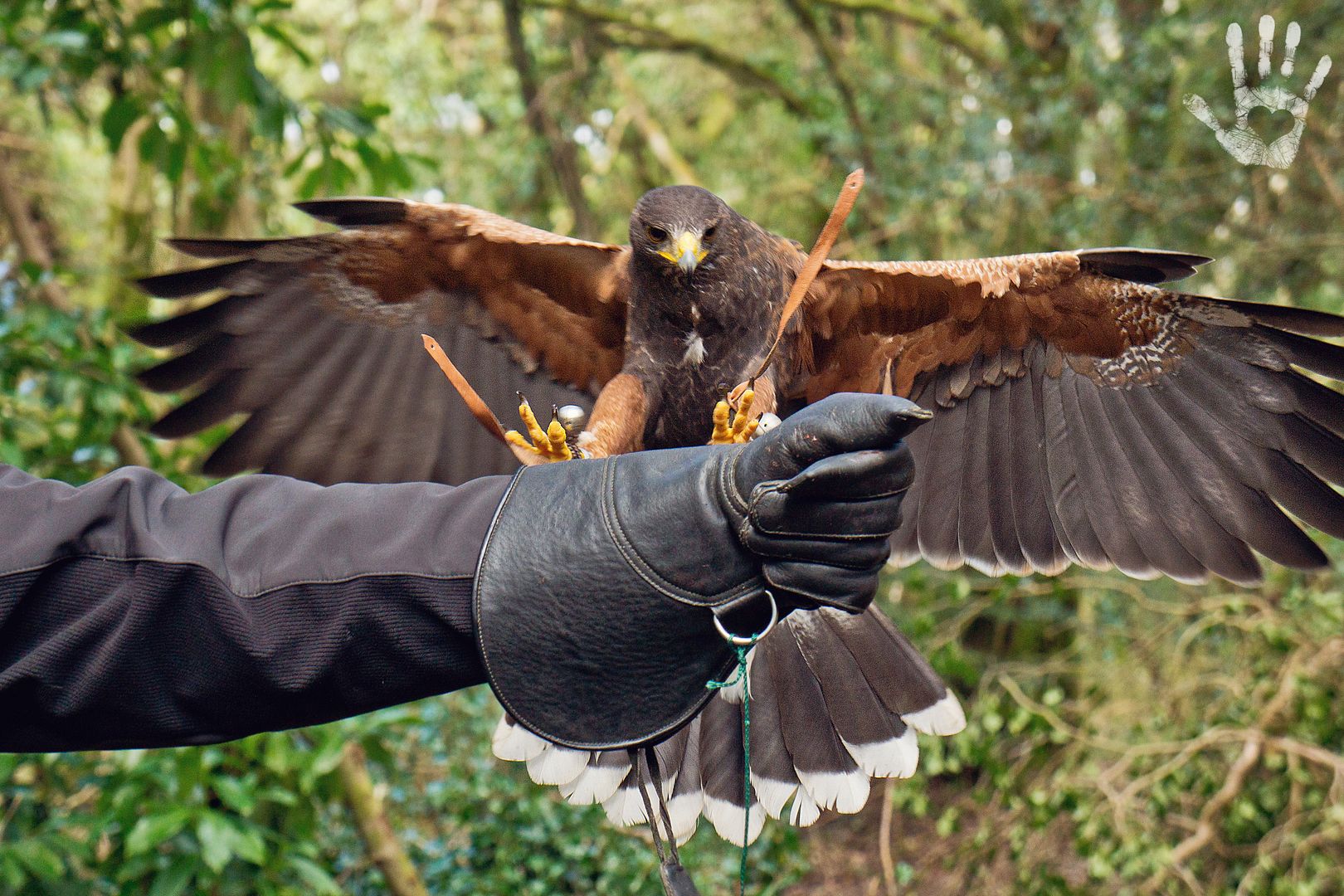 After the hawk walk was over, Conal took us back to the school and we helped put Wilde back into "at home" gear. Conal allowed us the special privileged of taking their European Eagle Owl, Dingle, out of his pen just for me to photograph! I was beside myself with delight! To be within twelve inches of this glorious bird with no glass or fence between us was incredible. You can see the joy on my face in the photograph. This is why we loved Conal and recommend him to anyone who decides to make a trip to the school.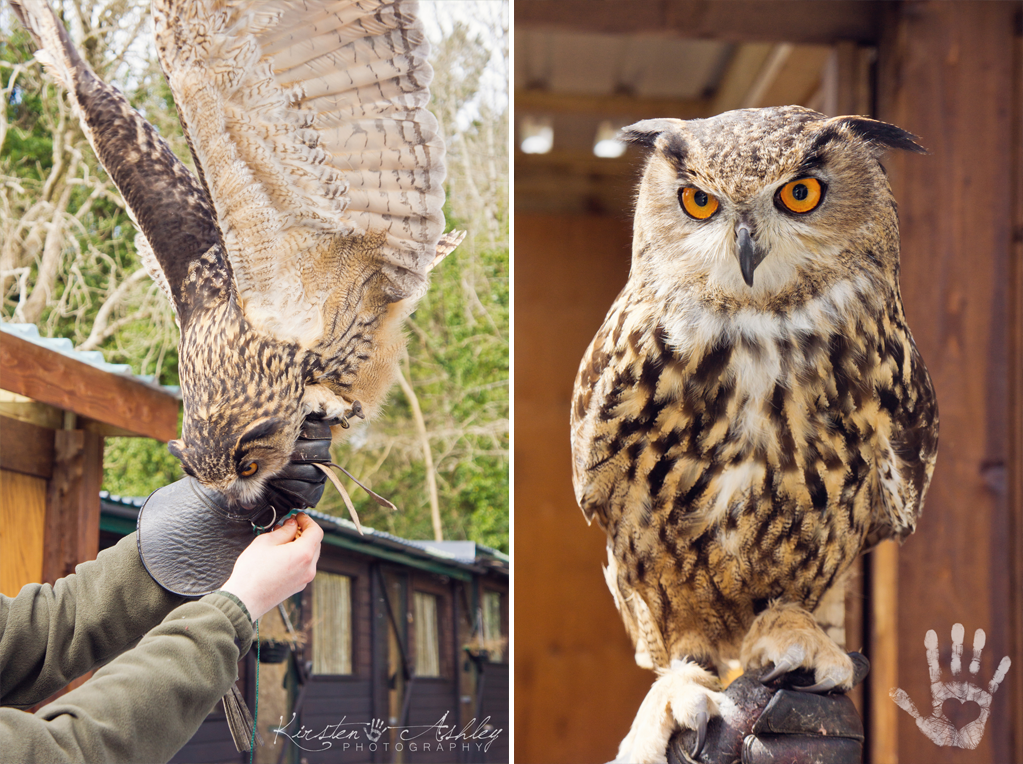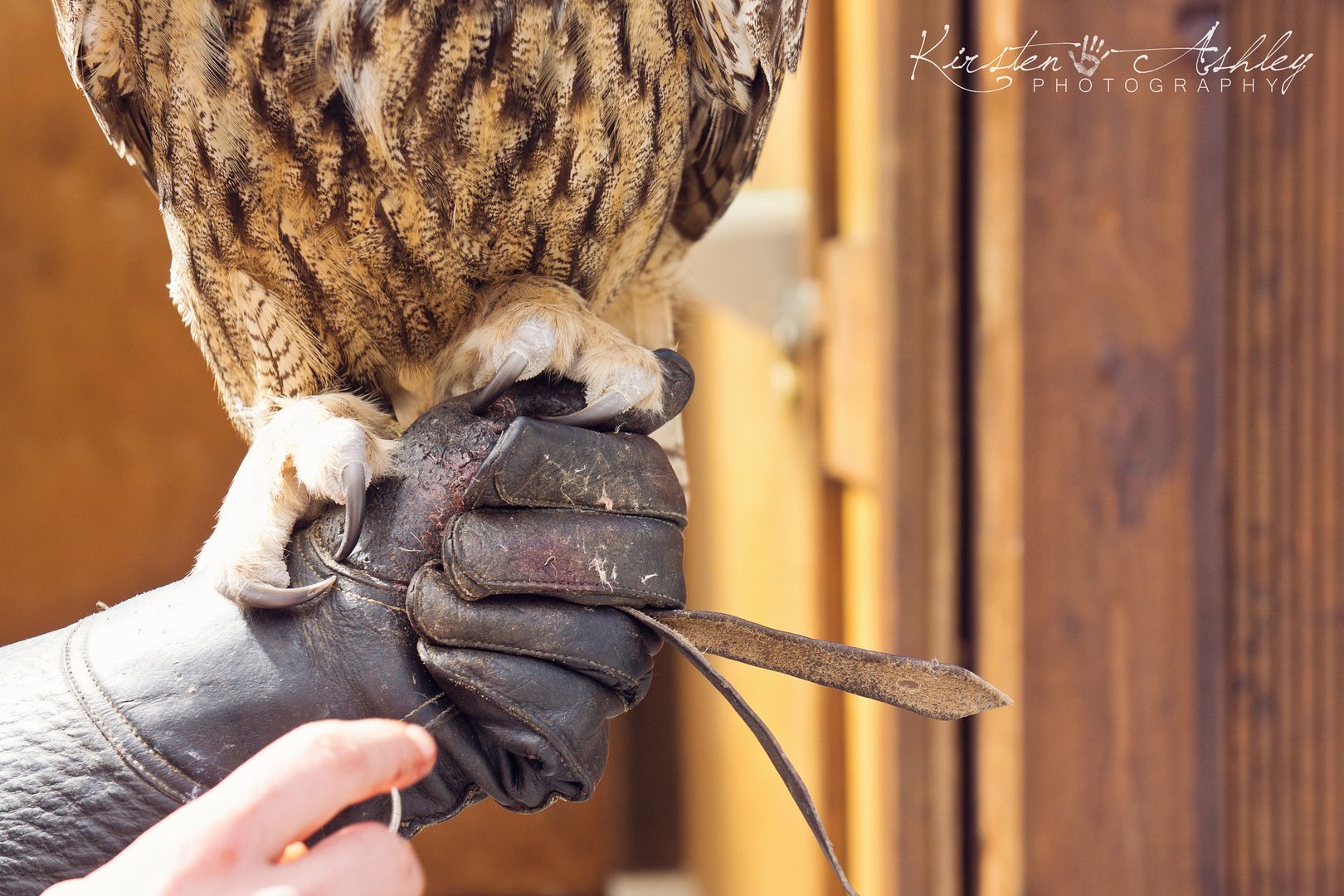 On the way back to Galway we encountered this monastery ruin. Of course we had to rabbit hole on a mini road trip adventure to find it. Just because you see something cool on the side of the road in the distant field doesn't mean there is a road that leads straight to it. More than likely, you will have to exit at the next town and meander your way backwards through the tiny winding roads. The ruin is actually called the Ross Errilly Friary and was was founded sometime in the middle of the 15th century, perhaps around 1460. It is a national monument to Ireland and one of the best preserved monasteries in the country. It is now used as a burial ground by the area residents.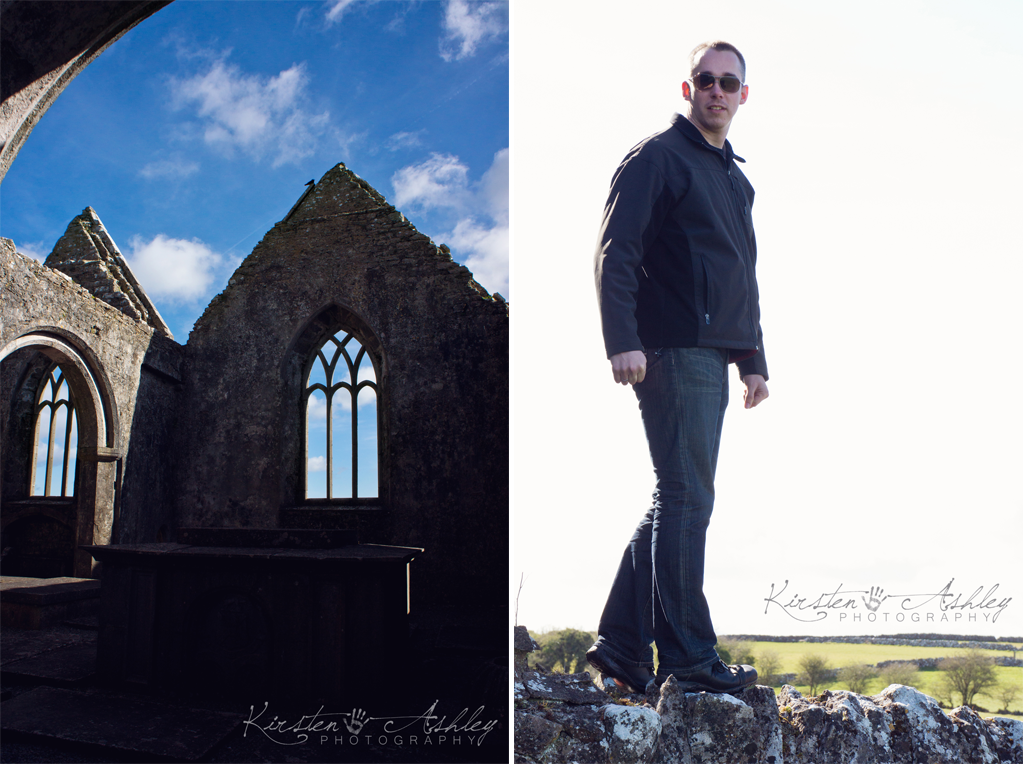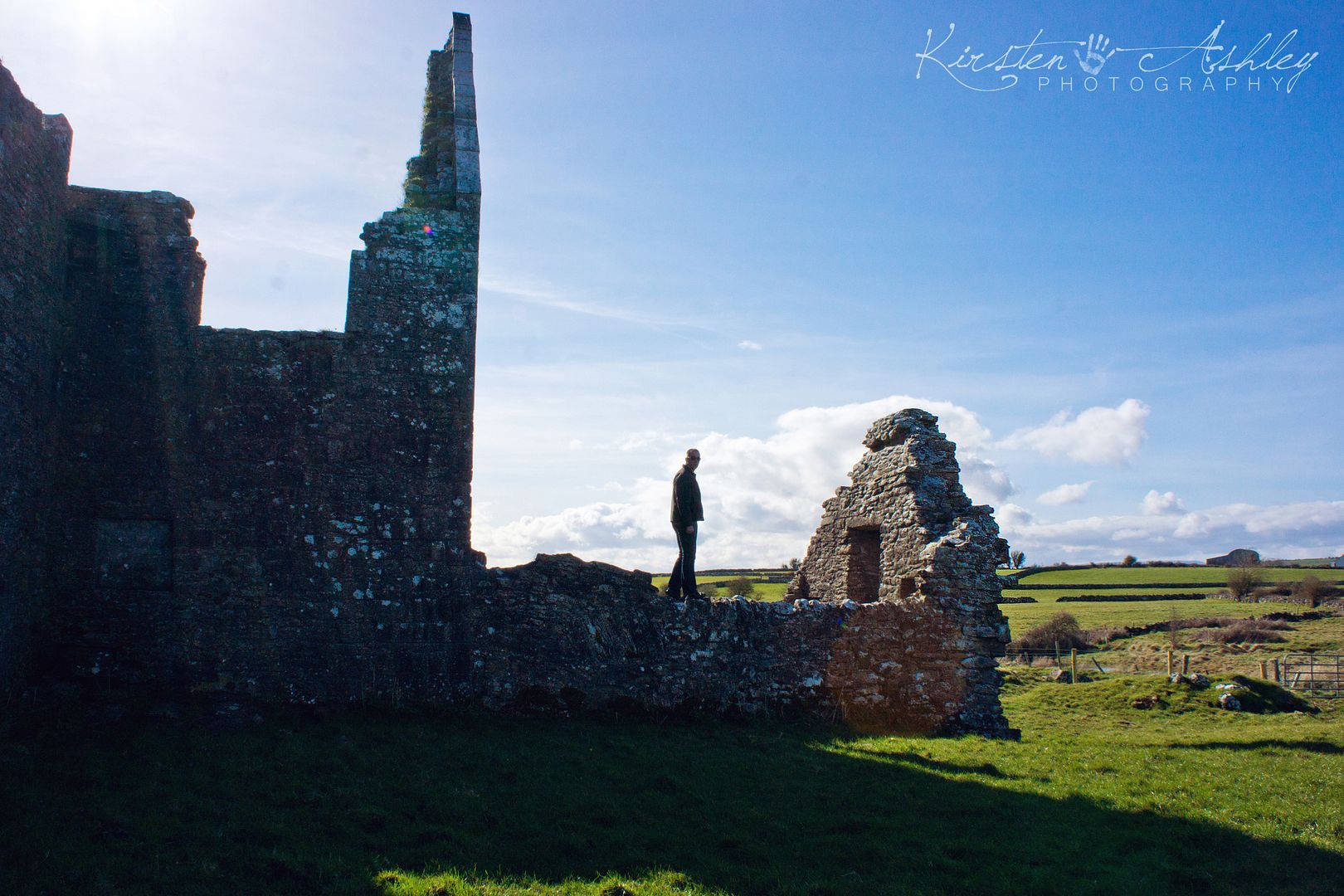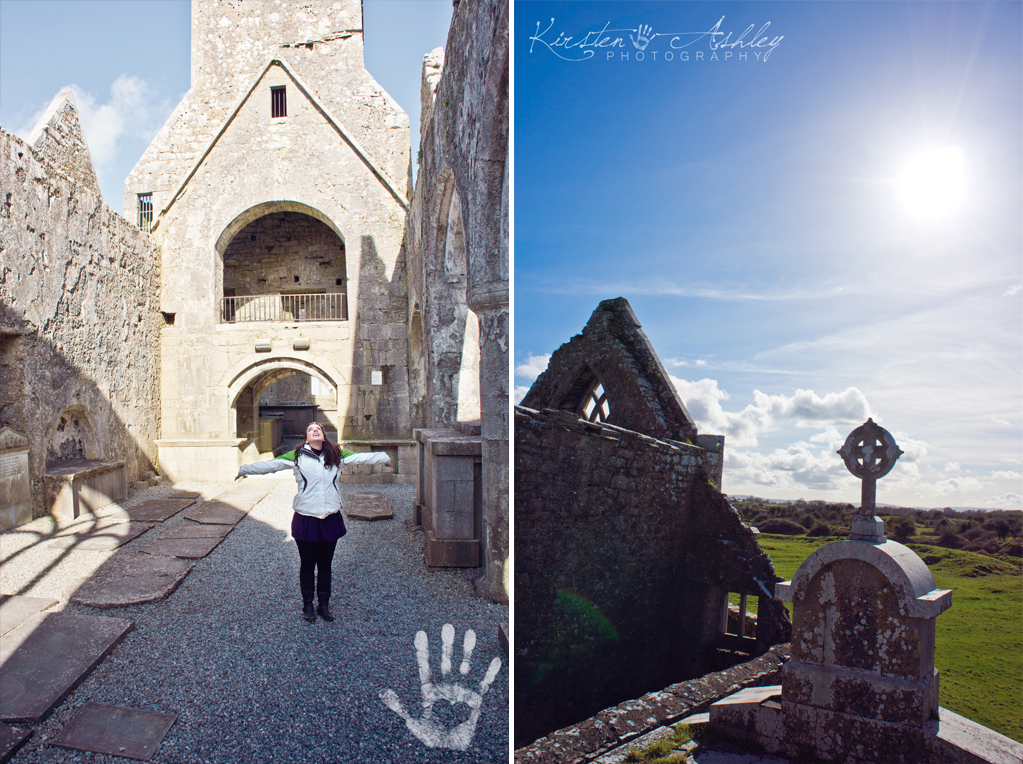 Dinner that night was exquisite at a local restaurant in Galway. We were exhausted after traveling but happy as clams with the days experiences. As per the Ireland vacation tradition… we ended the days festivities with a Guinness.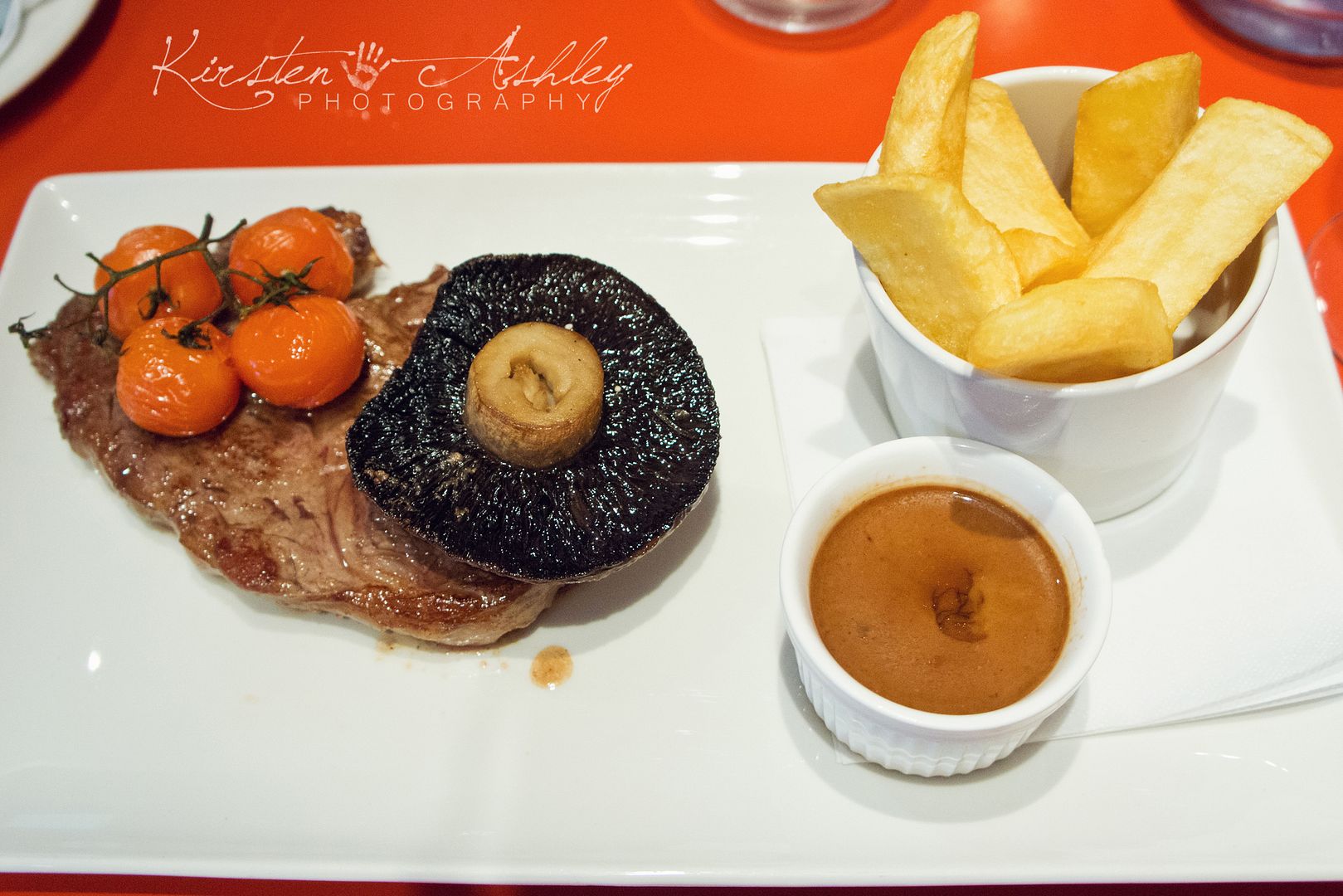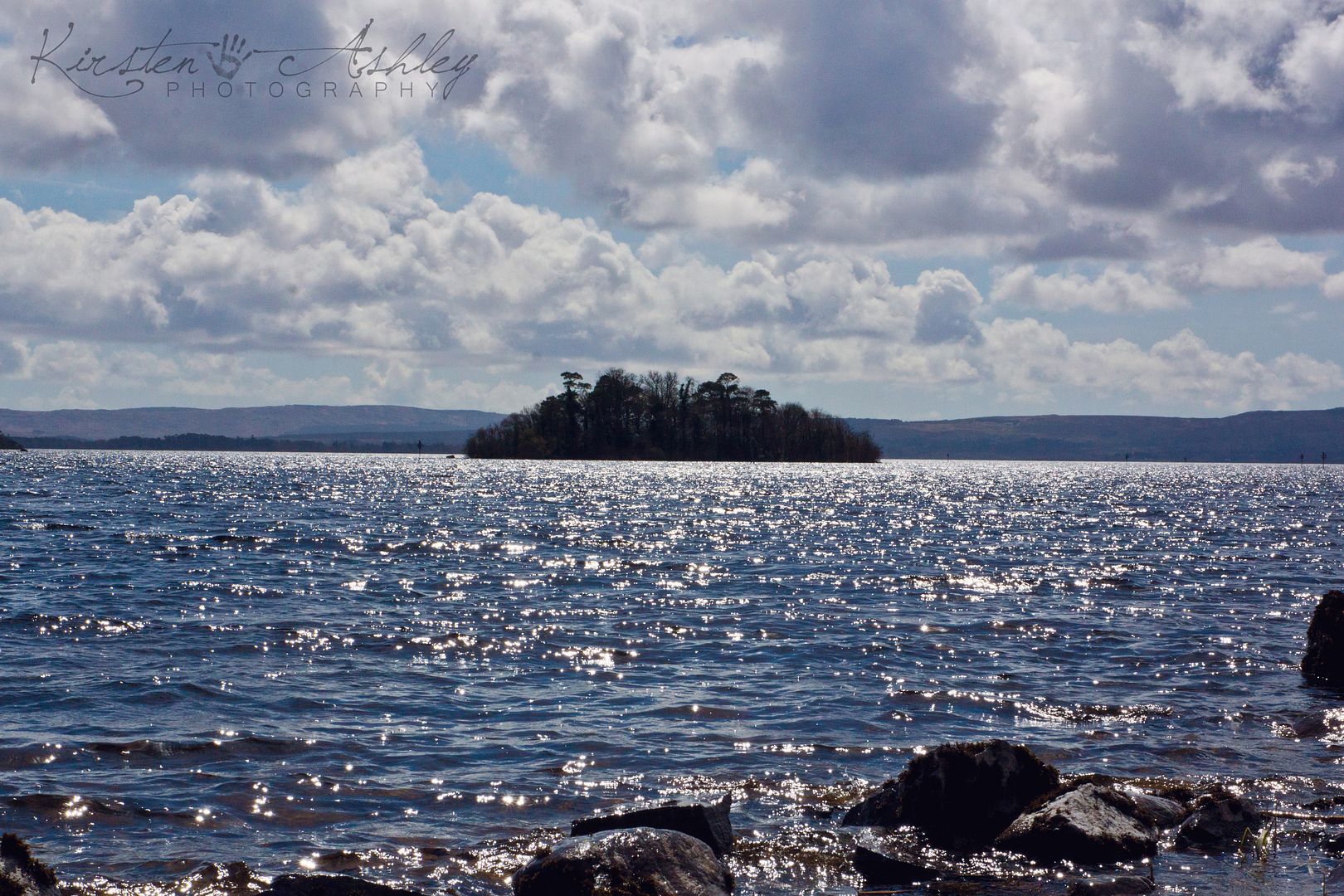 Stay tuned for Day Three coming soon! I can hardly wait to post more images.