1 :: Sigh of Contentment – There has been a great deal going on lately. We've had lots of visitors this summer and plenty of surprise Air Force things thrown in the mix. Today is one of those days where I realize the craziness has passed and there is nothing but an indian summer full of photo sessions and editing that awaits me. It is impossible to tell you how much this makes my heart content. I feel like we spend most of our lives vying for time to do things we really want to do. By some miracle of God, I have been granted this wish for the next two-three months. All of those projects that have been put on hold are now in full swing! This of course means there will be a great deal more action on the blog in the coming weeks.
2 :: Contentment = Comfort – This weeks shoe highlight is known for their comfortable style. Clarks have signature "crepe sole" has been a part of the company since the first product launch in 1950. The sole is made from latex tapped from the para rubber tree and is one of natures most resilient shock absorbents and water repellents. The product is "entirely natural and sustainable" which means it's good for mother earth too!  Clarks fit into the "laid back style" section of my shoe closet and are great for travel and the beach! 1) Billie Swing – Dark Grey Synthetic $39.99 2) Mimmey Paige – Green Synthetic $69.99 3) Plush Bea – Turquoise Leather $69.99 4) Mimmey Anne – Copper Synthetic $69.99 5) Vogue Rose – White Grey Fabric $69.99 6) Attitude Pose – Brown Leather $59.99
3 :: Content to Read – The summer season always lends itself to late nights. When I lived in Texas we relished in dusk because it was the first time all day that the temperatures dropped. I used to curl up on our patio furniture to absorb my latest novel like a sponge. Something about this time of year causes me to turn off the movies and wander my library in search of stories of grand adventures and new worlds. In lieu of this shift, I bring to you this season's book recommendations! 
Wither – The Chemical Garden Trilogy by Lauren DeStefano – This whole series was fascinating. If you love stories about post apocalyptic societies this book will rock your world. The writing is intensely detailed and the characters are fully developed. A must read for this summer!
Clockwork Angel – The Infernal Devices by Cassandra Clare – This series is dedicated to old souls. It's set in the turn of the century so the mannerisms and language are old school. I also liked this series way better than Clare's oh-so-popular Mortal Instruments "City-of" series. So if you're a fan of the original I highly recommend the prequel series! Clare paints such vivid imagery of the shadowhunter world in the light of a Victorian Era. LOVE IT!
The Shadow of the Wind by Carlos Ruiz Zafon – I haven't read a novel this fantastic in quite some time. I feel like it takes a lot to wow me these days. This book is so rich and passionate. A mystery that follows a boy his whole life with fascinating characters interacting along the way. It is set in Barcelona, Spain after the first world war, and having spent a significant amount of time there I was able to see the scenes play out like a movie. This stories is for all great lovers of books.
The Pledge by Kimberly Derting – Another favorite of stories held within caste societies. The heroin fights to take control of her own life in a world where everything is decided for her based on the rules of a cast. If you enjoy a power struggle this one's for you!
The Unbecoming of Mara Dyer by Michelle Hodkin – A curious murder mystery. This book has a haunting feel that keeps you turning the pages until the very end. The good news? It's book one of a three part series. The bad news? The third book doesn't come out until December 2013.
4 :: Snack to your Hearts Content – Summer time in my brain equals snack time and not just any snack food will do. My favorite genre of food is seafood so this week I have researched some scrumptious seafood snacks perfect for entertaining or just filling your own tummy. Eating seafood always makes me feel closer to the beach even though I'm landlocked and at lease 6 hours away from ocean. A) Healthy Norwegian Salmon Snack B) Bacon-Wrapped Scallops with Chili Butter C) Panko-crusted Crab Cake Bites with Roasted Pepper-Chive Aioli D) Tex-Mex Shrimp Cocktail
5 :: Content with Shooting in Sunshine – Endless days of sunshine. That's what a German summer is all about. It's almost enough to make you forget the 9 month rainy season. Almost. I have thoroughly enjoyed playing with the light in both sunset and sunrise. Here's a sneak peek of the lovely Jessica Aiduk who honored me with a request to photograph her long hair before we both get haircuts next week. You're stunning J!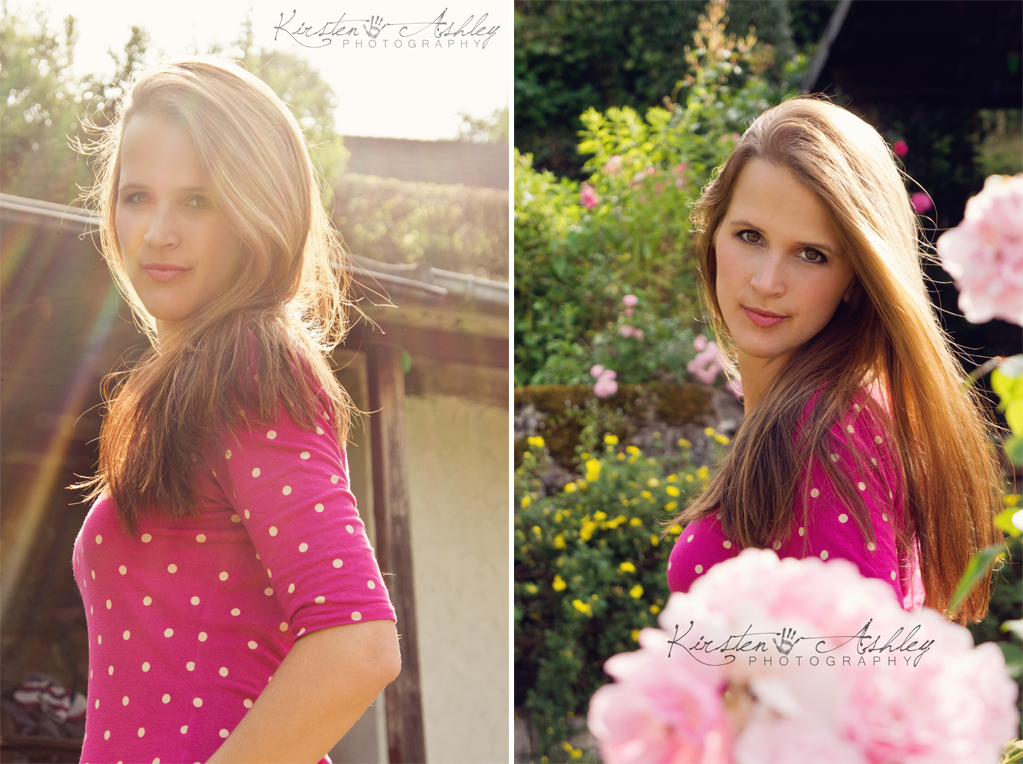 That's all for this Monday! Hope this inspired you to start your week refreshed and ready to conquer. Don't forget to come back next week!
 Hit the subscribe button  at the top to receive the Kirsten Ashley Photography Blog in your email whenever it's posted!